For privacy reasons the people listed by name in this article are only people that have passed away.
In loving memory of each of them.
I stepped into the house. It sat on the most awesome lot in Atoka, Tennessee. I made my way into the house. The possibilities were endless. This would be my dream home. At the time, I knew nothing about its background. It was just pure potential. Our first baby would be here soon.
We were probably the only contenders for a house that had been sentenced to the rubble pile. Nobody wanted it, even as a haunted house. The bank was willing to sell it for more than they would ever be willing to loan on it. But we made a deal and the work began. Yes, I was a dreamer.
You See Its a House with a Wealth of History
Lucy Gragg Lived Here
Many people lived here and many had visited the house. Thomas Gragg's wife, Lucy, lived here at one time. You can see Thomas Gragg's name on the concession stand at Nancy Lane Park. People that had some connection with the house asked about it at several Celebrations in Atoka. It has a long history.
Joseph B. Adkison
The City of Atoka named the street, in front of the house, in honor of the person that lived there – Joseph Bernard Adkison, World War I Congressional Medal of Honor recipient. He was born January 4, 1892, and died May 23, 1965, at age 73. He accepted the Medal of Honor at the Atoka Presbyterian Church. The Homecoming '86 Committee moved the stone from the churchyard to Adkison Park, when citizens created the park. I helped with the Homecoming '86 Committee, so I knew where the stone came from.
Read "Celebrating Medal of Honor Day: Meet the Atoka man who earned the Medal of Honor in World War I" in the Leader written by Sherri Onorati as a Special to The Leader on Mar 25, 2018.
You'll Know a Little About the Lives of Daring Heroes
In a list of property transfers, the following deed, shows that Dr. J.E. Blaydes and his wife transferred lot 57 in Atoka, Tennessee, to their son, Dr. A.B. Blaydes, in 1898.
Dr. J. E. Blaydes
James E. Blaydes was born in Madison County, Tennessee, November 28, 1839. He was the son of John K. (born 1802) and Sallie Coleman (born 1808), both from Virginia. In 1865, Dr. J. E. Blaydes practiced in Portersville and later moved to Atoka, Tennessee. He invested in land by using his earnings from his medical practice and several thousand dollars that belonged to his wife. At one time, he owned 3,500 acres.
There is no way to tell from this deed whether there was a building on the property at the time of the sale. But Dr. J.E Blaydes transferred a lot 57 in Atoka to his son, Dr. A.B. Blaydes.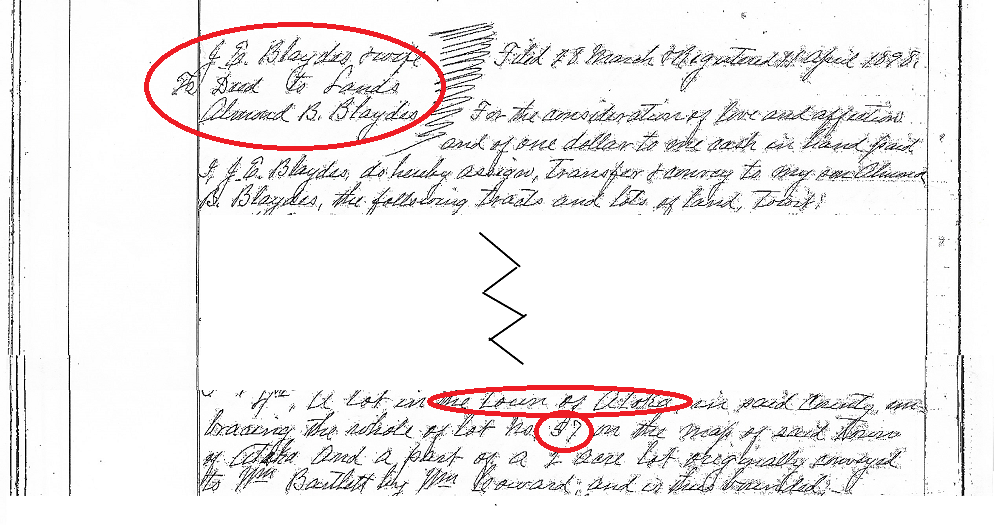 Dr. A.B. Blaydes
Then, Dr. A.B. Blaydes and his wife transferred a house and lot 57 to Adeline Adkison in 1906. Dr. A. B. Blaydes made a name for himself in the area. He grew up in Atoka, owned the first Model T in Atoka, and had six children. Also, he owned a resort in Tipton County called Glenn Springs. In February 1940 he died. His grave is at Elmwood Cemetery in Memphis.
George Harris
A black man named George Harris said he drove Dr. Blaydes' car for him and looked after his children sometimes. George Harris lived to be 100 years old and was still living in 1986 because we have a picture of him and our oldest son sitting on the front porch of Andy's Atoka General Store.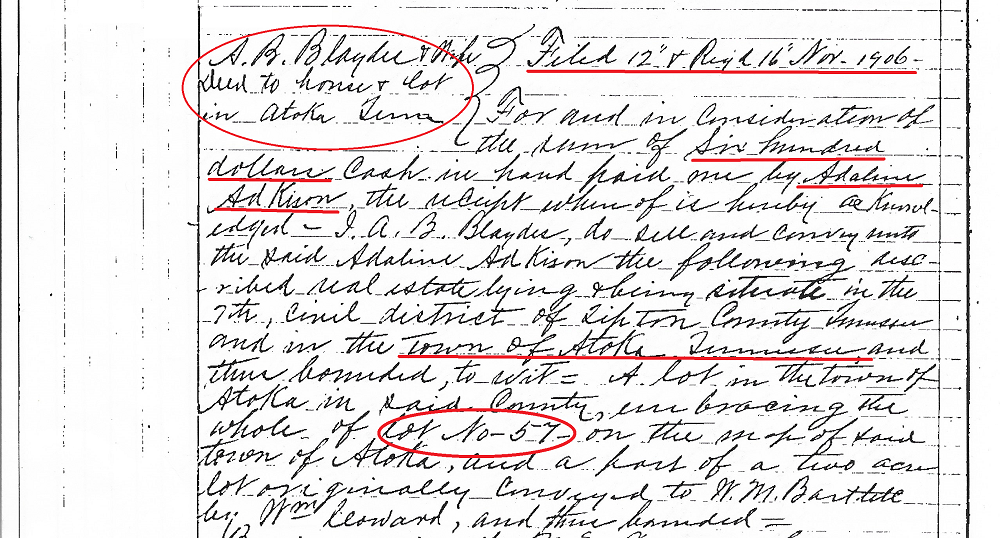 Joseph Adkison & Adeline Adkins
Information about Joseph B. Adkison from the1940 census shows that Adeline Adkison is his Mother.

1928 Tornado
The tornado of 1928 destroyed most of downtown Atoka. The tornado missed this house. The porch may have been knocked off. But the tornado mostly missed th house and it still stands today. One person in Atoka died during that tornado. The tornado also missed the Methodist Church in Atoka, but it has since been rebuilt.
It Looked Like an Absolutely Impossible Lifetime Job
Before we could move into our house, it had to be re-wired, re-plumbed, and re-roofed. We cleaned out the mess later. We Paid off our fist loan within a year and a half while I was working at General Maintenance and Painting in Brighton.
The first year we lived in the house, a six-pack of colas froze near the baseboards. Frost appeared on the inside of the bathroom walls. We tried to protect our first baby, but he grew up in an unfinished home where boards often laid across his crib. He never seemed to notice.
One day, before we fixed the porch ceiling, a large snake dropped out of the porch ceiling and immediately undulated inside. The thing was moving fast, mostly off the ground, and I couldn't tell where it went. I jumped on the couch. Eventually, I was able to get our baby out of his crib, and we ran to the car. My husband dealt with the snake. You never heard it from me, but there was probably a lot of squealing and flailing if arms by moi.
Unbelievably, Always Something Extra to Do
Stairs
Stairs were built in the living room to access the very large attic area. For a time the stairs had open runners, with no rail. Good balance was a wonderful thing.
Bathroom
The old steel bathtub was nasty. We "re-porcelain-ed" it dark blue. This didn't work at all. We decided to get a fiberglass tub and wall insert instead. The bathroom is now on its second set of floor covering. You can actually see the outside of the old house above the bathroom ceiling. My guess is that the bathroom was one time a porch and was enclosed to create the bathroom.
Closets
This house had no closets and no garage. Every closet that exists now was built by my husband.
It Was Astonishing – Lots of People Helped
Husband's Brother (Front Porch and Roof)
My husband and his middle brother filled the front porch with concrete. The porch is covered by cleaned bricks that were originally part of the fireplace. Dad and Mom gave us the posts for the porch.
My husband and his brother also turned the hip roof in the back into a full gable. His brother put a hole in the dining room ceiling when he slipped off of a ceiling joists while in the attic. There was no attic floor at the time. Very scary when the ceilings are twelve feet high and it must have hurt too.
Windows
On the outside, the windows were covered with pieces of heavy metal. I wasn't there, but I remember hearing about Dad cutting his hand on the metal when they were removed. The interior window trim came from an auction in Munford, Tennessee. I believe it came from the Pickard house. This had to be stripped of all paint and repainted. Stained glass, to replace transoms, came from a vendor in Memphis.
Interior Doors
Interior doors came from an auction that occurred when the Memphis Peabody was remodeled.
Red Williams & Manard Cole (Floors)
The wood-burning stove in the living room was bought from Vermont Castings. We bought new hardwood flooring and Maynard Cole, my uncle from Drummonds, Tennessee, installed most of the wood flooring.
We have a special reminder of Dad. He was "helping" with the wood floors. (Dad was a much better boss than a helper.) He tried to do something with Uncle Maynard's circular saw and didn't realize that Uncle Maynard kept his safety shield latched open. Well anyway, there's a gouge in the living room wood floor from when Dad tried to move the saw. It has been covered with wall-to-wall carpet for a long time. I think I'm ready to uncover it now.
Ruthless Mind-Blowing Work Was Insanely Never Ending
Underpinning & Fireplace
My husband bought cinder blocks, for underpinning the house, at the Mason Lumber Company auction. We hired someone to do the work. The bricks from the crumbling fireplace were removed and cleaned by us. The old fireplace mantle, a favorite for antique hunters, was long gone.
Insulation & Heating
Contractors blew insulation upstairs between the ceiling joists in the attic and in the exterior walls. The old sash windows, originally hollow on the sides with weights for opening and closing, were replaced with double-pane windows.
We had central heat and air installed. Prior to this installation, we used the Vermont Castings wood-burning stove in the living room. There were several old gas heaters hooked up to the City of Munford gas. The rest of the heating was done with kerosene heaters. Our youngest son placed a plastic toy on a kerosene heater once. Other than that, I don't remember having any mishaps with the heaters. We kept our wood-burning stove going continuously when it was cold. My husband had to keep wood cut for the fire. He built a wall in the dining room (center room downstairs) to create a hall and a room for our sons
Kitchen Cabinets
We bought the kitchen cabinets from a nearby company who also installed them. This was a big expense. I can remember saving for it.
Siding
At one time, we replaced the lap siding on the house. I insisted that it be replaced with lap siding similar to the original. But I never knew how difficult it would be to paint the whole thing. We eventually covered the lap siding with vinyl siding.
Interior Walls
For years, most of the interior walls were black, because we did not have time to paint them. We found that the best paint to cover fake blood was Kilz – a paint primer. The walls had been painted black for the South Tipton County Jaycees for their Haunted House. The Jaycees turned the house back into the Munford Union Bank. We originally bought the house from the bank. We had several loans, one at a time, and paid them off along the way.
Lattice Fence
A decorative lattice fence was once on the south side of the house. My husband built the posts for it with a pointed top. The lattice did not hold up and some of the posts rotted at the bottom.
Vegetable Garden
At one time, we had a small vegetable garden and shared the extra produce with our neighbors. Who knew that such a small garden could be so useful.
A Job
This was not a full-time job for us. We both had full time jobs elsewhere.
How to Finish a House When It Will Never Be Done
Finally, we decided to get vinyl siding, finish the attic, build wooden steps outside on the back, and level the dropping dining room floor. That was our last major purchase for the house. We painted the attic ourselves.
Time to relax for a while.
The Last Heroes to Live Here
I would be remiss if I didn't at least mention the last two heroes that grew up here – our sons.
Attempt to Scare Mom
I came down the hall one day and turned left to go into the kitchen. This happened often, so my oldest son knew exactly where I would go. He had been watching me. He was waiting in the room past the hall, on the right right side of the hall exit. I turned left and he screamed behind me. I turned to face him and screamed and screamed. He said – What's wrong Mom? I scared him. There was no way I would be screaming that long because of him. (He thought.) And I screamed – I don't think I stopped screaming until I ran out of breath.
Our Sons Helped with the House
Our boys helped with the concrete walkway in the front. They also helped with the stone walkway around the birdbath in front. A man that worked for Dad brought the birdbath from the Fertilizer Plant later, with a forklift. Our youngest son built the trellis for the Carolina Jasmine on the front north side of the house. My husband has since added extra support for the trellis. Both of our sons cleaned a messy attic.
Short List of Accomplishments – Oldest Son
Our oldest son graduated with a bachelors degree, summa cum laude, in computer science, from The University of Tennessee at Martin. He is working in his field of expertise and raising four young men with his wife.
Short List of Accomplishments – Youngest Son
Our youngest son joined the Army National Guard. He graduated from a Specialty Program in Texas. Then stayed in the National Guard past his original contract time of six years, so he could go to Tikrit, Iraq. He bought a house recently and decorated it with his own creations.
Conclusion
Our heart and soul are in this house. And many of the hearts and souls of people who have lived in Atoka are here also. My sons actually claim they say ghosts here when they were little. I was never really afraid in the house. Most of its noises can be explained by natural occurrences. But who am I to disbelieve.
by Stephanie